Engineering
We are your partner in the development and optimization of turbomachinery. Learn more …
Power & Propulsion
We develop highly efficient turbo generators to help shape the hybrid electric drive systems of the future today. Learn more …
Model Jet Turbines
Our BF Series turbojet engines have been known for many years for their good performance and manufacturing quality. Learn more …
Dear customers,
as you have certainly already noticed, on 3 June 2020 the German government adopted an economic stimulus package to strengthen the economy in the face of the corona crisis. This includes an initial six-month reduction in VAT from 19% to 16% and the reduced rate from 7% to 5%.
Of course we want our customers to benefit from this tax reduction and we have adjusted our prices for all components as well as the complete turbines accordingly for this period.
Your AeroDesignWorks team sends you its best regards!
Published on: 29. June 2020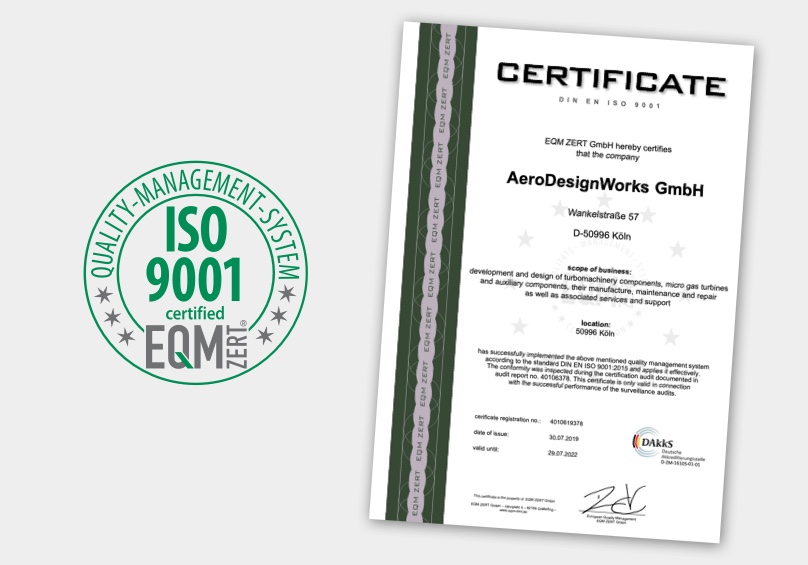 We have met the requirements of a quality management system according to ISO 9001:2015 and are now officially certified since 30.07.2019.
This guarantees you that we have comprehensively implemented the requirements for quality management in our QMS and that we have mastered our quality standards in our processes.
DIN EN ISO 9001:2015 is the most widespread and most important standard in quality management, both nationally and internationally. It serves as the basis for the continuous improvement process, primarily to meet customer requirements and to endeavour to meet customer expectations.
The certification consists of a review of the documentation as well as demonstration of the practical application. Read more
Published on: 20. May 2020
We work solution-oriented and always tailor our approach precisely to the wishes and requirements of our customers. Detailed project planning enables us to jointly implement and realize the specified goals in consultation with our customers.
Please contact us and discuss your visions and plans with us so that we can define the requirements together and determine the target planning.
Get in touch now